Purpose
Our HRMS System gives your company a decisive edge in the daily HR and managerial activities. So let the huge registers vanish in thin air & work right from your desktop. For any organization, from small to large-scale sizes, manpower is the most crucial factor that affects and is directly responsible for the performance of the company and economical status of the company. Manpower management is organization's parallel and one of the important activities as main business of that organization.

That is why, Human Resources Department is considered as "Heart of the Organization." In most of the organizations, manpower expenditure is more than any other and many times more than the actual capital investment of the company. As a matter of fact, in Software companies, Service industries such as Call Centers and larger organizations like Banks, Marketing Firms and trading companies, where manpower is a major asset affects the overall performance of the organization.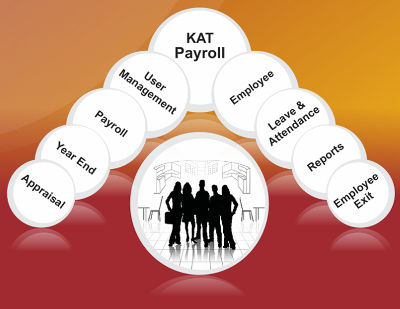 In short, Human Resource Management of any company is a key to the success of that company when handled and managed properly and efficiently.

HRMS Solutions is complete software that can handle all the day-to-day operations of Human Resources Department of an organization. It is designed to be so flexible that it can be adopted and can be modified according to statutory changes in different countries, different locations & according to today's dynamic changing needs in rules and regulations. Focused on End users and simplicity of daily operations results in maximum output and accuracy with minimum effort and negligible time. From the security and usage standpoint, maintaining a book or register system has many negative points.