What is brand?
Brand is creation of our identity by elements to represent our company in market world. Any Brand of company represent their identity and people looking the same in the Brand. The Brand is company name, icon, symbol, image, graphic or character and its aims to establish a significant presence in the market that attracts loyal customers.

How it works?
The Brand is mediator of company and consumers. It is a way to enter in the consumers mind. Perfect Brand gives better result of other thing associated with that Brand. It helps customer to right choice in multiple options. The Brand help memories the organization, product or service, The Brand should communicating to consumer with different media consistently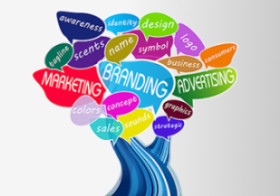 Brand + communication + consumer = Success
Brand types & elements
The Brand have many types such as: Using a name of initials. Names of symbol that describe a organization, product and service, function, feature or benefits. Take a word from other or regional language. Actual name of people, Composition of multi words to create one using lucky word or number.
The Brand have different elements in one such as : Using Name, visual graphic, catchy tag-line, discover the shape that it express your thoughts, colors that attract people and that mean it

What is Advertising?
The media (Audio, Visual or Text) that can take user attention or gives message to them that is Advertising, Virtually any medium can be used for Advertising. It is depend on our product and customer range, one more medium of Advertising is mouth publicity e.g. marketing. This is heard but effective and expressive medium

Benifits of Advertising
Through Advertising we approach customer and convince that a organization services and products are the best, by updating and announcing new products and offers consistently it helps to build the trust on products and enhance the image of the organization,

Advertising media
Virtually any medium can be used for Advertising e. g. television, internet, mobile, newspaper, e-mailer, SMS, newsletter, magazines, hording, FM Radio and Marketing, As the mobile phone became a new mass medium because it has multiple source of sending and receiving
Our design services
Branding & Advertising
Logo Design
Corporate Identity
Brochure Design
Newsletter Design
Online Advertising Design
Print Advertising Design
E-mailer & E-newsletter Design
Brochure Designing
Brochures as a marketing tool are aimed at advertising products or services or as tools that are meant to provide information to people. Brochure design services at KAT Technologies help business firms of all sizes get their message out, with professional and high-quality brochure, catalogue designs, advertising, and newsletters.
Whether you need a mailer, a flyer design, tri-fold brochure, sales brochure, marketing brochure, training manual, booklet, pocket folder, or a catalog we have the expertise to deliver. Our experienced team assesses your objectives, creates the brochures or catalogue design, produces, prints and delivers complete satisfaction.
Contact us and find out how to get the most out of your marketing materials by getting a professional brochure or catalogue design from KAT Technologies !
All our clients have always been more than satisfied with the results we have delivered, and today we have a reputation of providing those who come to us with brochure designs that substantiates your products and services and infuses them with the credibility and professionalism that any successful company would like to be represented by.
Our company realizes the aims at providing you with the desired results within a given deadline and at the most affordable of costs possible.